Veerle from Oceonics - 12 / Sep / 2020
THE MENSTRUAL CUP: WHAT, WHY AND HOW?
Are you also curious about how to use a menstrual cup and what the benefits are? I tested the menstrual cup by Fair Squared this monthly period. It's made from 100% natural rubber and will last for a very long time. When it's my call, those expensive tampons - wrapped in plastic - won't win from that.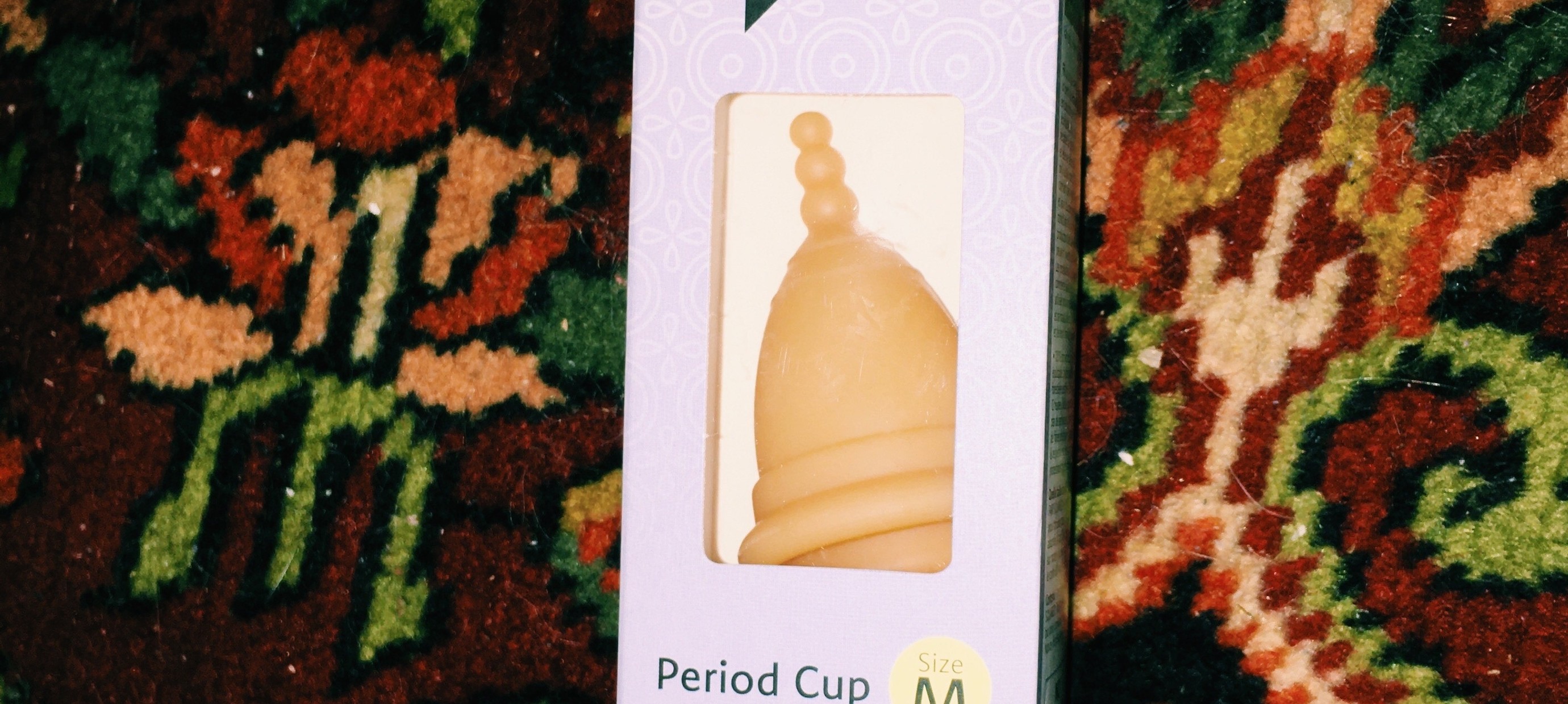 Never ever I counted the days until my period. I was almost excited, because I was using a menstrual cup for the first time. Instead of tampons. You use the cup on the same way as you do with a tampon. However, they have some qualities on which you would rather switch to the cup. Did you ever thought about what goes in your vagina with a tampon? Why are the substances from these products not mentioned on the box? Simple, producers say: it's not obligatory.
Well, great. Women's period products can contain the following substances:
Dioxines (can harm damage to the brain)
Chlorine
Ftalates (chemical substance which makes stuff bendy and movable)
Pesticides
Asbestos
Microplastics
Glue
And count therefore in that you have to unpack the tampons or sanitary towels out of plastic wraps. The perfect example of unnecessary plastic.
In our webshop you will find the menstrual cup by Fair Squared. It is a soft cup made from fair trade natural rubber. On the package you will find the same called quality mark. And next to that farmers got a fair price for the rubber, the cup does not contain a single gram of plastic. Yay to that!
I was testing the menstrual cup by Fair Squared this month. And as I said before: I was pretty excited! I always used tampons and thought that was just easy. But I'm always in for a more sustainable and healthier alternative. At Oceonics you order your menstrual cup in a size M (13 ml) or L (16 ml). Depending on how much blood you loose or whether you gave birth to a baby, you choose the smaller or the slightly bigger one. I'm not bleeding a lot during my period and didn't give birth, so I chose the size M.
BOIL IT OUT
The first step in using the cup is boiling. Put a pan on the stove and cook the cup in plenty of water for about 10 minutes. Important is that the cup must not touch the bottom of the pan. The rubber can break and can therefore leak when using. After 10 minutes the cup is completely sterilised. Let it dry to the air on a piece of toilet paper.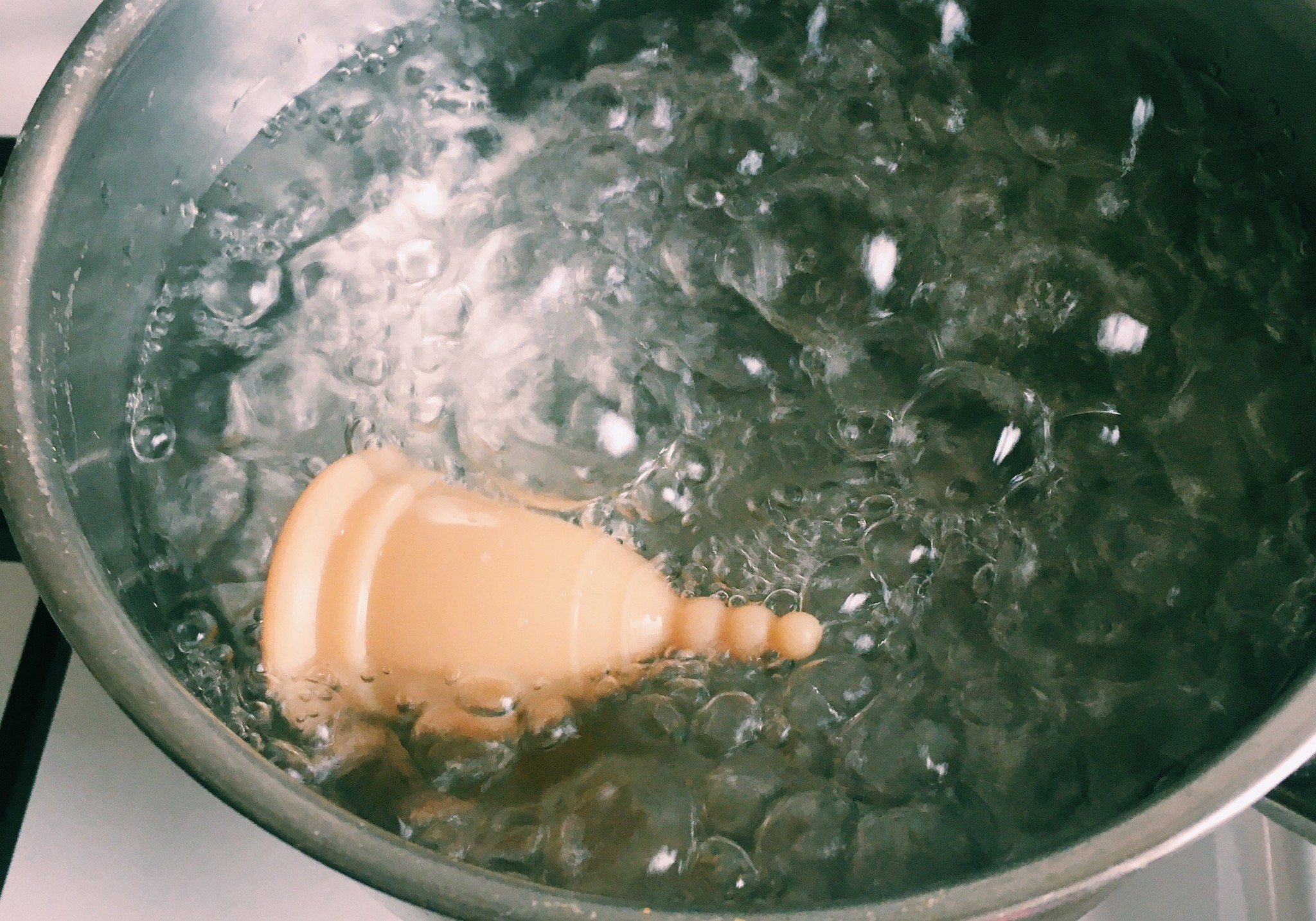 WASH YOUR HANDS
Wash your hands with natural soap to start totally clean. The cup looked a little bit dry and felt stiff as well. You can use some lubricant on water base when it's to hard to put it in. I tried it without and that worked all fine. You can also make it wet again, that works good too.
INSERTING THE CUP
Make sure you're relaxed when inserting the cup and get in a comfortable setting that works for you. Sitting down, standing up, squating or with one leg on the toilet seat. Whatever works for you. With a menstrual cup you do need some more space then with a tampon. Spread your legs to create that space. I did it standing up and in a slightly squat pose. I pushed the cup in a C shape - look at the picture below. It works for the best to insert the cup horizontally. That may sound weird, but when you insert it straight up, it will resist. When you push the cup on the side into your vagina with your finger, the cup has more space to expand.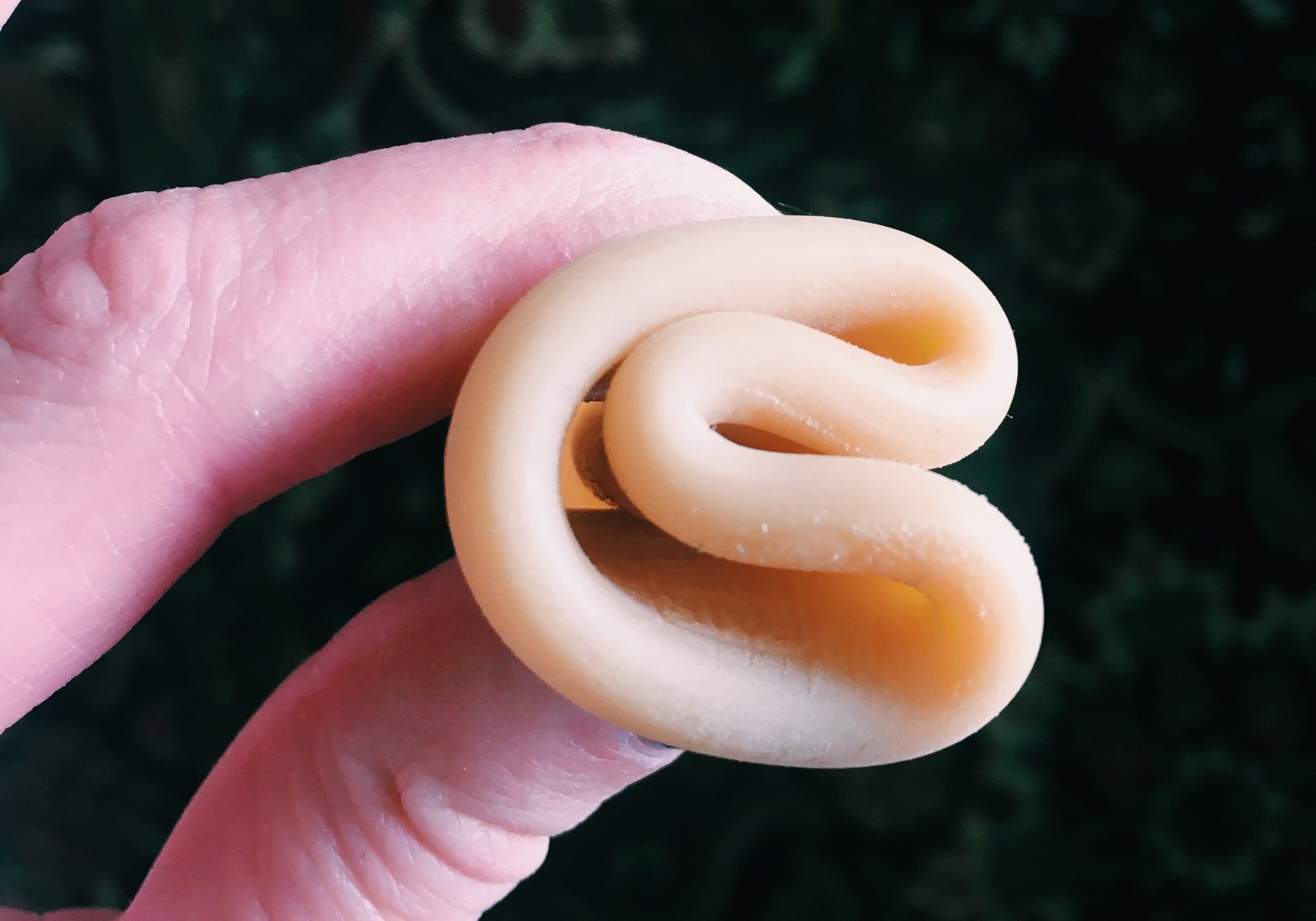 WHAT MUST IT FEEL LIKE?
A tampon is quite high in the vagina, but a menstrual cup should be quite low. The short stalk shouldn't be sticking out, but it does have to be easy to get to when you want to remove the cup. The manual from Fair Squared tells me that I have to try to turn the cup. That way it should expand well and closes the vagina. I didn't manage to turn it, because it felt too dry for me. So I tried to push the edges up and slightly pulled on the stalk to make sure the cup is straight and airtight. The most amazing part of this all: I didn't feel it inside me! For real.
REMOVING
Where you can leave a tampon up to 8 hours, you can leave the menstrual cup up to 12 hours! Perfect for light days when you're on the go: you don't have to think about it. For the more heavy days you will have to empty it around 2 to 4 times. How do you do that?
Where you pull the string from a tampon, the cup needs a little bit more technique when removing. Wash your hands first. Get in a relaxed position. I was comfortable for me to remove the cup when sitting on the toilet. But that could be different for you. I pushed the cup down by tighten the muscles in my vagina, like pushing.
A NOTE: don't think that you must pull the stark with all your strength. The cup is airtight and pulling very hard wouldn't work. It would only hurt as hell. By slightly pushing, the cup comes down a little bit. By pinching the bottom of the cup with your thumb and pointing finger, it will let go. When you feel the cup is not airtight anymore, you can use the stalk to pull the cup down. 
CLEANING IN BETWEEN
When you remove the cup, you can empty it in the toilet or the sink. Rinse it with cold water. Not hot. Hot water stimulates the iron in your blood which causes stains and smells in the cup. Do you also have a toilet without a sink? Take a bottle of water with you to rinse the cup. You can optionally wipe it dry and then insert the cup again.
HOW TO KEEP YOUR CUP IN PERFECT CONDITION
A nice benefit of a menstrual cup is that you can reuse it over and over again. Preferably for a long time and therefore it's very important to take care of it. At the end of your period you wash out the cup with cold water en optionally natural soap. Dry it off an keep it in the cotton bag. Because of the cotton, the cup can keep breathing and it doesn't cause smells.
At the very first use of the cup you sterilised it by boiling. Do this with every first use of your cycle. I do it at the end of my period too, but that's not necessary. The rubber of the cup is naturally anti bacterial, so if your hands are properly clean, there isn't much going on. You can choose to boil it before or after your periode. Or both. Make sure the cup is completely dry after use and keep it at room temperature in the cotton bag. By extreme temperature changes the rubber can break.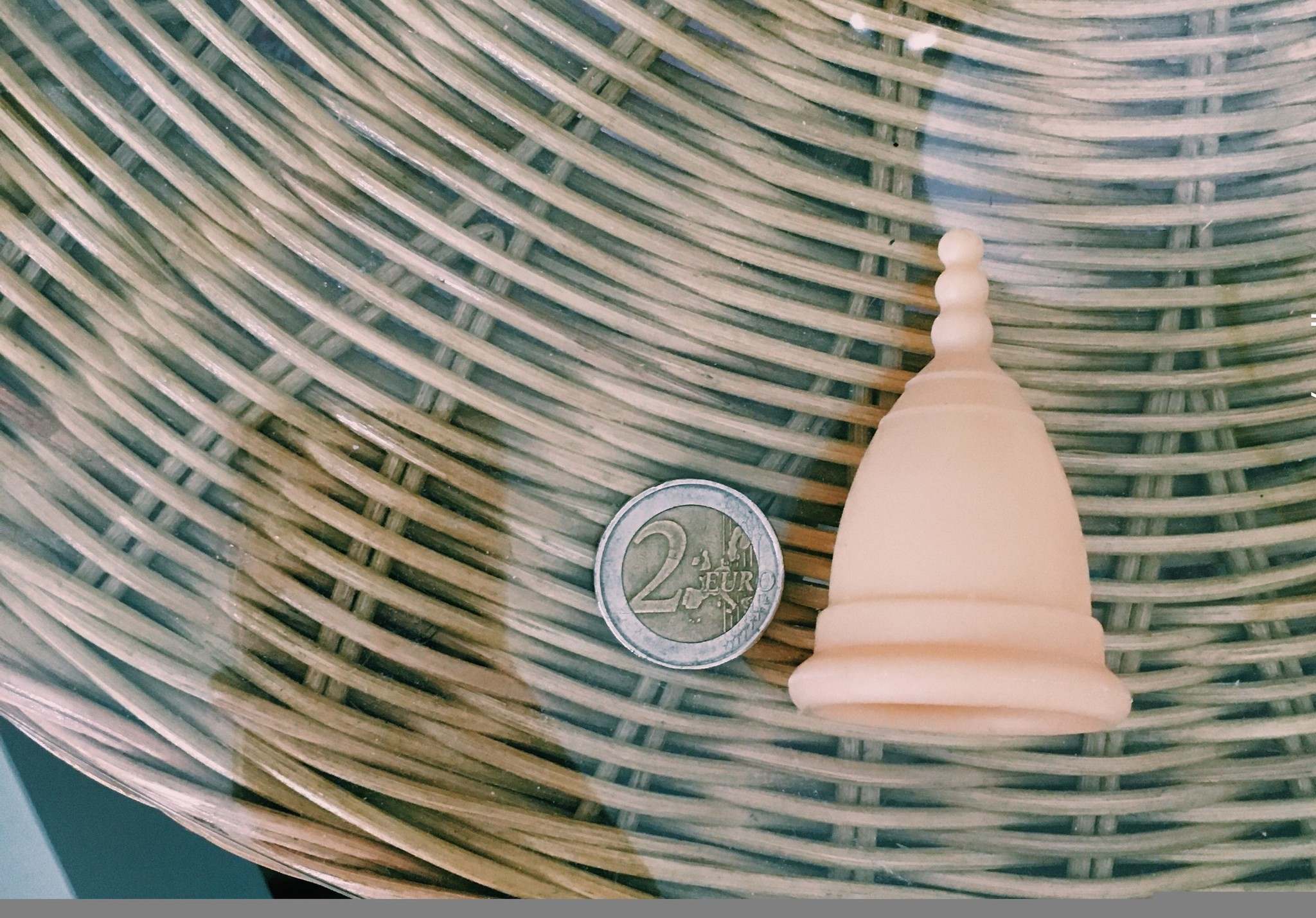 ALL BENEFITS LINED UP:
No chemical, harmful substances in your most intimate part
No unnecessary plastic
Made from 100% Fair Trade and biodegradeble plastic
Protects up to 12 hours
Doesn't feel dry when inserted
Doesn't leave fluff
Reusable and therefore nice for your bank account
I won't leave you hanging anymore: I can recommend the cup when you're a fan of a carefree period.
Would you like to stay informed about the rest of our tips? Sign up for our newsletter and discover more about a plastic-free life!